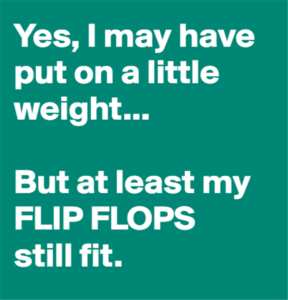 A few posts back I wrote about exorcising 2016's demons and weight gain. I actually started gaining weight in 2014 during Esther's pregnancy. I always thought stories of expectant Dads gaining weight during their wives pregnancy was bogus, like Bigfoot or the Loch Ness Monster—until it happened to me.
Over the past two years I waited for some kind of event or trigger to snap me into weight-loss mode. Oddly enough waddling around after a hyperactive toddler and a closet full of tight-fitting fat clothes didn't do it for me. Three weeks ago, a bathroom scale saying 242.2 provided the much-needed wake-up call.

Make a Plan and Own It – I've done many diets and weight-loss plans over the years, including Atkins, South Beach, and Weight Watchers, with mixed success. I never, ever, not even once, wrote my goals down on paper or any form of electronic device before starting any of them. Not until now.
The Good Men Project called me a badass because I'm over 50, run marathons, and am a first-time dad. It's been awhile since I've felt like a badass so getting back there that tops my list. Losing 50 pounds is a close second. I also want to run another marathon, and cross the Empire State Building Run-Up off my bucket list.
I interviewed for my current job as at an art college in September. For the interview I was unable to button the jacket on any of the suits — I have four of them. My department is responsible for the school's graduation ceremony in May. I thought about buying a new suit but not any more. My new goal is fitting into one of the suits currently sitting in my closet.

Find a Partner in Crime – The minute I stepped off the scale, I knew who this was — she stepped off the scale about a minute before I stepped on. Big goals seem daunting without having a partner with similar goals. It makes things easier for both of you.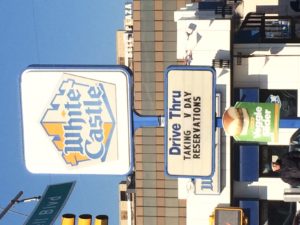 Misery Loves Company – No I'm not talking about my marriage. Three weeks ago Esther and I joined Weight Watchers — it's an excellent program that's worked for us. Spending the first ten days or so detoxing, as our eating habits changed from pizza and fast food, to healthier foods brought some crankiness to our home. Why do they insist on running commercials for cooking shows and burger joints the night before the weekly weigh in?
Set Short-term Goals – Finishing 12 marathons and two ultramarathons, taught, me to break a big goal into a series of smaller ones. I break a marathon into three pieces, 13 miles, 18 miles, and the finish line. Since my stating weight was 242 pounds, I wanted to get under 240 as quickly as possible. After that I'm focusing on getting to the next five-pound increment.
Set Long-term Goals – After Thanksgiving I noticed many of my clothes fit way too tight but I refused to buy new ones. Maybe it's because I'm cheap, stubborn, or knew changes were coming after the New Year but buying bigger clothes seemed like surrendering. My first goal is fitting into smaller clothes. I'd also like to start running five-mile training runs, pushing Cristian in his jog stroller as I go, and racing again. I have a ways to go before I get there. For now it's one day at a time, one step at a time, one meal at a time.
Share This: