It's September 8th, Labor Day Weekend has come and gone. Fall will be here soon, with the promise of cooler weather and pumpkin-spiced everything. Calling 2020 an odd year would be an understatement. If I woke up tomorrow morning to find an alien ship on my front lawn, it wouldn't faze me, I'd probably make them coffee and ask them about their trip. That's an indicator of how the year has gone so far.
I'm about to start my sixth month of working from home, fully aware I won't be returning to the office anytime soon. Back in March, when I went underground, they instructed us to stay home and flatten the curve, but in New York City, the line kept going straight up. Those first months were rough. Bars, restaurants, and movie theaters were closed, the NBA, NHL, and Major League Baseball, the Kentucky Derby, and the 2020 Summer Olympics were all canceled. Sports fans wondered aloud if this is what the Middle Ages were like.
The biggest problem was people trying to lead their lives the way they did before the Pandemic — some still are.
I've been home since St. Patrick's Day, how's that for irony? In the 176 days I've been home, I realized the glass wasn't empty or half full. Good things happened along the way too. You just had to be paying attention.
In the past 176 days, I noticed:
I Enjoyed Spending Time With My Son – This may run counter to my last two posts. I've written about remote learning with an overactive five-year-old with a short attention span as he ran, bounced, and climbed the walls like he had three Red Bulls for breakfast. It's been enough to make me reach for my emotional-support bourbon.
The benefit of spending the past months with Cristian, is I've seen his growth and development in real-time. He now dresses himself, is potty trained, and speaks more clearly. Sitting next to him during class time and therapy sessions showed me how smart he is and gave me a glimpse of his playful personality.
I Found Things Hiding In Plain Sight – Taking Cristian out to play was easy in March and April when the weather was cold and the parks were empty. That changed when the weather warmed up in May. When Cristian's Saturday OT Sessions were canceled because of a state mandate, Esther suggested taking him to the Jamaica Bay Wildlife Preserve. Set on 9,000 acres, the preserve has hiking trails, saltwater marshes, and freshwater ponds. It was mostly empty and the perfect place to run, play, and look at the Canadian Geese. I've driven past it on my way to the Rockaways for years. It took a Pandemic for me to discover this amazing location, less than two miles from my home.
I Enjoyed A Moving-Up Ceremony – If you know me or follow this blog, you probably read that last sentence and thought, WHAT! That's valid. I always thought Moving-up Ceremonies were the product of a generation who received participation trophies in Little League. Through the course of my education, I had three graduation ceremonies, junior high school, high school, and college. Cristian had three in the past three years. Every year, the wife gets excited and plans a celebration, while I have images of George and Weezy. This year was different. Maybe being locked up like a hermit for three months affected me, or that the virtual ceremony was quick. It lasted only 30 minutes. Cristian finally got a piece of the pie.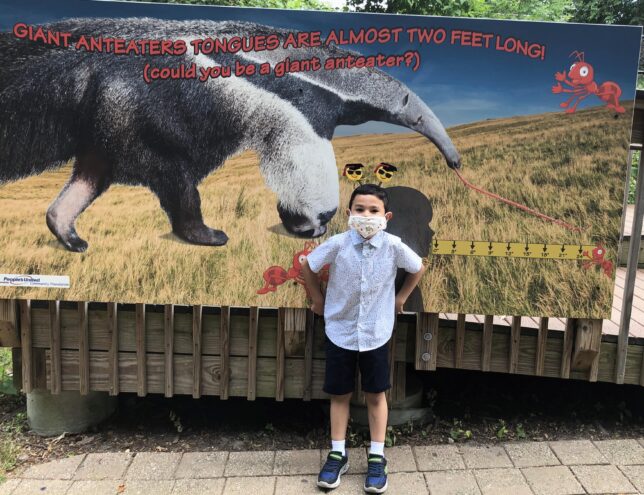 Family Day At A Socially Distant Zoo – As Cristian's Moving-up Ceremony approached, Esther scoured the internet looking for a way to celebrate Cristian's achievements in basic crayon. New York Zoos and Aquariums were closed, so she searched across state lines. She found the Beardsley Zoo in Bridgeport, Connecticut. They had just reopened with heavy restrictions and an emphasis on social distancing. Guests reserved spots in advance, wore masks, and could only walk in designated areas. A year ago, I had no idea we would have enjoyed an hour at the zoo as much as we did.
I Had Time To Write My Memoirs – No, really. I'm aware the concept of a white-haired fifty-something man sitting at a typewriter and writing his memoirs is beyond cliché. Like several bloggers I follow, I've considered adapting I'm Not Grandpa to book form. I've spent the past two years reviewing notes and blog posts and even alluded to it here. I started a 10-week memoir-writing course in January and really enjoyed it. When the virus hit, eight of us formed a writing group that meets on Wednesday nights. Being around this talented group of writers has given me the discipline to stop thinking about writing a book and start writing one.
Share This: