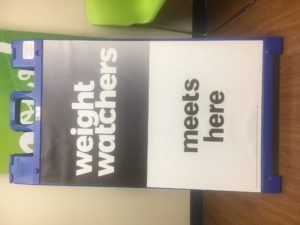 A few posts back, I shared my battle with maintaining a healthy weight. Before stepping off the scale, my better half and I knew we had to do something. We headed back to our old standby—Weight Watchers.
If you've never joined Weight Watchers you may have a few preconceived notions—I did before joining. Let me clarify a few. Weight Watchers meetings are not a group of hefty soccer moms holding a low-fat muffin in one hand and a Starbucks Venti cup in the other. Members don't sit around listening as the group leader shares the latest recipes for low-calorie baked goods. Like Mommy and Me Class Weight Watchers meetings are not strictly women-only events, men go to Weight Watchers too.
If you are undecided here are a few things I noticed.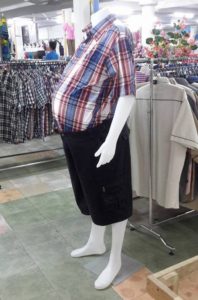 The Weigh-in – If you want the full Weight Watchers experience, start with the weigh-in. It's not as entertaining as The Biggest Loser but it has its moments. Picture a long line of overweight people clutching little books and stripping down to as little as possible before climbing aboard the scale. It's not a pretty sight, or so I've been told—repeatedly by the wife. If you're hyper obsessive like we are, you wake up early on weigh-in mornings looking for ways to shave off an extra half pound. We've taken Chico for two-mile walks, done full gym workouts, and run half-marathons before stepping on the scale.
The Plan Changes Weekly or So It Seems – If you've jumped on and off the program like an adrenaline junkie at the X Games, you notice the plan changes—a lot. Starting over means another post-meeting walk of shame to your group leader so you can learn the latest buzz words and changes to the Points Plus plan. The only thing changing more is the celebrity endorser—I've been through Jessica Simpson, Jennifer Hudson, and Oprah during my many memberships.
They Sell More Products than QVC – If you've taken three children to Disneyland you have an idea of the kind of money a brand-new gung-ho member can spend. Offering a full catalog of branded products including starter kits, cookbooks, and prepackaged snacks, members can easily drop more dollars than pounds on the program.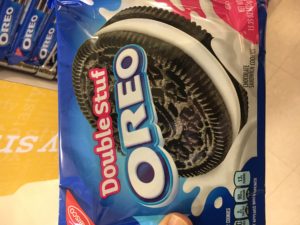 It's an AA Meeting for Fat People – Weight Watchers is a support group for those having an unhealthy relationship with food. Although we don't introduce ourselves, "Hi I'm Frank and I'm a fat person," meetings offer support and encouragement during those rough weeks. The group leader offers constructive suggestions and keeps the conversation from going off course. I've seen meetings sidetracked for twenty or thirty minutes as members discussed Oreo binges and debated the point value of a bag of microwave popcorn. One meeting went off the rails explaining the term food porn to a confused member. To this day I'm pretty sure she thinks it means something else.
But Seriously – I keep going back because the program works. I've learned portion control, healthy options, and not to get too down on myself after a bad week. Since starting on January 2nd, I've lost 17 pounds—a good start but still a long way off from my final goal. Sitting next to members who've lost over 70 pounds and have maintained it over ten years says maybe there's hope for me too.
Share This: